CK Rewind : September Edition
It doesn't feel like a month has passed since the last CK Rewind edition but here we are about to step into October! So … let's rewind and reflect on a jam-packed month here at CK.
We kicked off the month with some fundraising as some of our colleagues took part in the Great North Run, the worlds biggest half marathon with 60,000 runners each year, whilst raising money for some amazing charities. One particular highlight came from our Engineering team leader Phil who took part in the run alongside his wife and raised an incredible £450 for Tommy's charity. Tommy's is a charity very close to Phil and Angela's hearts, it provides vital research into miscarriage, stillbirths, and premature births. The pair know first hand the devastating impact these experiences can leave on families. The Just Giving Page is still live for any further donations, follow the link below if you would like to get involved:
https://greatnorthrun2023.enthuse.com/pf/angela-philip-cockroft-62608?fbclid=IwAR37TlWrZdx71WwygLfy_Ef_7V1qDNBJEWjng_J8L9dPon23Jlw28wEpQmU
Following on with the theme of celebrating achievements, our SHE Advisor Liam celebrated a career development this month as he graduated with a NEBOSH National Diploma in Occupational Health & Safety – it is great to see that our CK employees are continually developing their expertise and skill sets in their field to better support the work they do. Congratulations again Liam!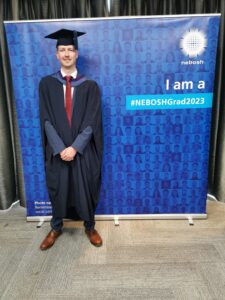 It doesn't stop there; I had a personal goal to get our CK LinkedIn page to the 1,000-follower milestone by the end of the month and I am happy to say that we did it! We have now surpassed 1,000 followers and continue to grow our community every day – thank you to everyone who continues to engage with our posts and support out journey.
Now, speaking of supporters, earlier in the month we ran our quarterly customer service survey, which is sent out to all of our customers who we have worked with this year, and we received some amazing results. We have year on year improvement across all areas from account manager expertise to customer service, our team goes above and beyond for our customers, and it was great to see the results reflecting that. We were also able to collect some more customer testimonials where CK was praised for our account management, attention to detail, knowledge, firepower, flexibility and so much more. You can view our customer testimonials in the link below:
https://www.linkedin.com/feed/update/urn:li:activity:7105459756944736256
As mentioned in previous CK Editions we have recently opened our new business unit, Managed Services and Bureau, and our story was featured in the Autumn / Winter Issue of the East Durham Business Magazine which is now available. This magazine goes out to the local community in the Northeast, showcasing local businesses success – it was great to get our story out to the community as we look to support more businesses with their document management, adaptation to paperless office, returns services and many more services our Bureau provides. If you would like to read our article and the rest of the magazine visit the link below (we are on page 6!)
https://eastdurhambusiness.co.uk/magazine/
In the last week or so our teams have been visiting a number of different industry events both near and far, to start with our Business Development, Commercial & Finance team visited the Print Show at NEC Birmingham. The Print Show serves as a hub for visitors to learn more about the latest technologies available to the industry and find out how investment can help them to move into new areas and grow their business as a result – CK's capabilities are continuously improving and growing it was great to see how we can continue to do that in the industry.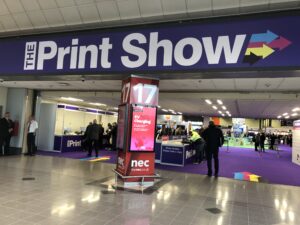 Our CEO, Tim, went a little bit further than Birmingham when he spent a few days at the Canon Tech and Innovation Event, which was based at the Customer Experience Centre in Germany! Tim shared some of CK's industry expertise and tips on how to re-energise, reposition, and grow your business through digital transformation strategies to Canon's VIP audience. The panel also discussed how partnering with customers can achieve successful digital transformation, with Canon showcasing their latest technologies and equipment to help support these strategies. CK's capabilities and expertise is now being recognised worldwide, there has never been a better time to be a part of our customer portfolio!
That's a wrap, now we move onto getting prepped for October (and inch that bit closer to the big C … I won't mention it just yet) – we have a lot of exciting things planned for next month including some charity fundraising, colleague rewards, team building days and no doubt so much more.
Thanks for reading!
Written by Jaime Havery.